One thing I love about blogging is all of the amazing people you meet, and friends you make along the way. Today's guest is an exceptional woman that I was lucky enough to become friends with during Project Run & Play.
Alida from I Make Stuff is truly talented, I love her point of view for kids clothing – as did everyone else who voted her into the top three…


She has so many fun Series on her site, her most recent one being 'For What its Worth Wednesdays – where bloggers get real'. It can be absolutely touching or heartbreaking one week, and absolutely hilarious the next! But my favorite Series she hosted may have been her 30 Day Thrift Challenge – where she created an entirely new look based on homemade and thrifted items for 30 straight days, all under $50 total!!!
Needless to say, I couldn't wait to see what my friend had as her New Years ReSewLution! I don't know about you, but I ALWAYS have a hard time trying to figure out how to make my curtains the perfect fit!!! I can't wait to see how Alida makes it…
Welcome Alida!!!
Did you ever have a project that dragged on and on and you thought it would never get finished? In February I declared war on wasted space in my house, and decided that our breakfast nook needed to function as a mud room. I was super excited about it, but then life got in the way and it never got finished.


UNTIL NOW! You see, I had put up the hooks and shelf and had the bench seat, but nothing to really pull it all together and make it look like it was supposed to be there. It needed something. It needed…window treatments!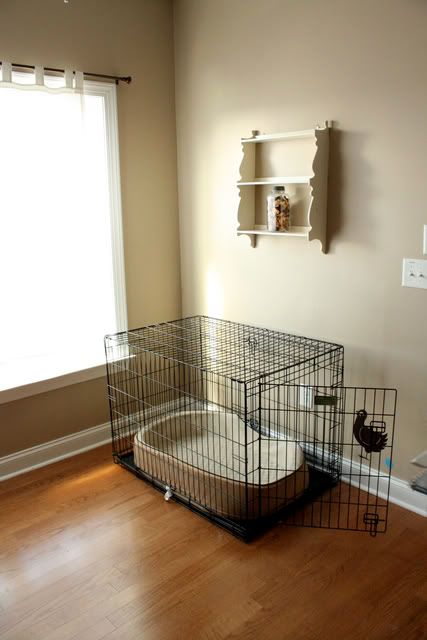 Let's take another look at the before. Bleck! It's so beige! And I am so not beige.


I have always had a love/hate relationship with window treatments. I love the way they change a room, but I have never been able to get them exactly right. I called my neighbor (an interior designer who specializes in window treatments) for some advice. Here are some tips she told me:
1. Always hang window treatments as high as you can.
2. Use a large bold print. A small print will get lost and you really want a lot of contrast. If the fabric looks pretty enough that you'd want to wear a dress made out of it it's probably not bold enough for window treatments.
3. Large, substantial curtain rods make any window treatment look better.
With these tips in mind I purchased my fabric. 20 YARDS of it! The amount intimidated me a lot. Here's the thing about measuring fabric for window treatments: it's really hard to get it right. There are so many variables to consider. How high is the curtain rod? Is the curtain rod completely level? Is the floor completely level? If you're even half an inch off in your cutting your window treatments just don't look good. So I created a method to getting it right every time. It's not the "right" way to do it but it made sense to me. Hopefully it'll make sense to you. Here we go!


First, decide how much of a hem you want on the top and bottom of your curtain. Add the two together. Fold the top over that many inches and press. (For instance, I wanted a 2 inch hem at the top and a 2 inch hem at the bottom, so I folded the fabric over 4 inches and pressed it.)


Hang it from your curtain hooks. Once it's hung smooth it out so that the fabric is flat.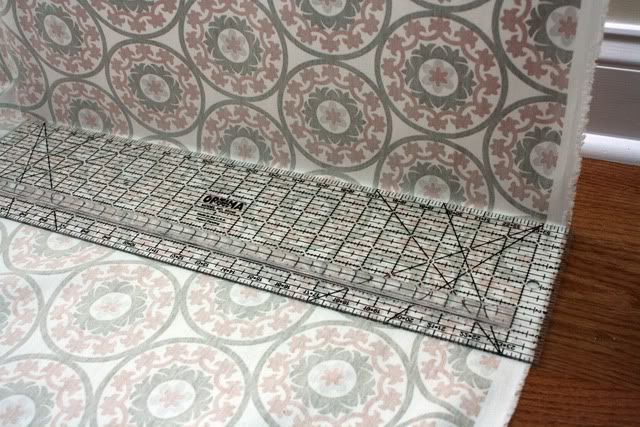 At each end of the fabric tape the side down to the floor 5 or 6 inches away from the wall. (Not pictured, sorry! I figured that one out on the second panel.) Then take a straight edge and mark with a pencil all the way across the fabric.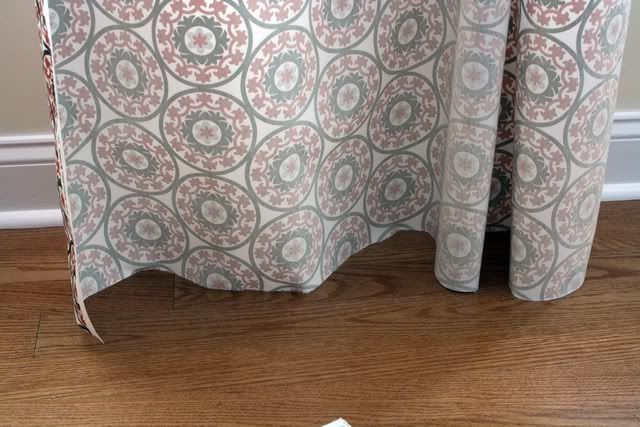 Then cut where your pencil mark is. See how it perfectly skims the floor?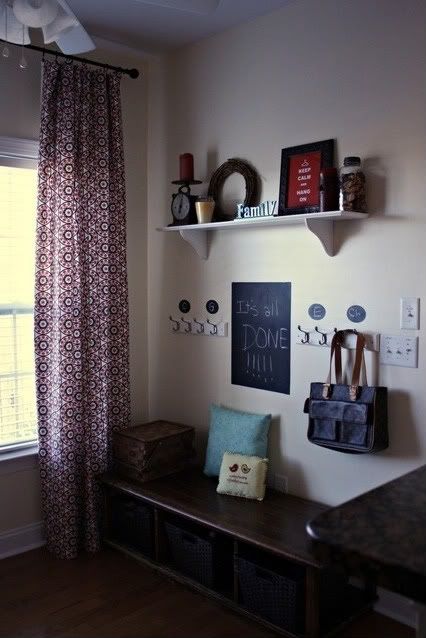 If you desire to change the width of the panel you can do so now. Another bonus? You can just leave them up on the hooks until you're ready to sew them! No worrying about where to store the fabric 🙂 When you're ready to sew them all you have to do is hem it on all sides and you're done!
I love the way curtains can change the whole look of a room. And if you find the fabric on sale (I never pay full price for anything) it doesn't have to be that expensive. I think the biggest challenge is making the first cut once you've bought that much fabric.
I hope I've inspired you to make some window treatments! Come visit me at I Make Stuff to see more before/after photos of my house! Next up…a roman shade. Wish me luck!
———————————————————–
What a cool trick Alida! I love it! I would have never thought to tape it to the floor like that! And that fabric print??? Fabulous!

Thank you so much for being here!!!

And be sure to check out Alida Making Stuff at:
{Blog} {Facebook}