Today I have the pleasure of introducing Susan from
Good Little Things
!
Susan is an incredibly talented seamstress, with a degree in Fashion Design that recently decided to pull out her old beloved, yet dusty, sewing machine and serger…and boy am I thankful she has!!! Just lookie what she can do in her Etsy shop…
Today she is showing off some of her mad sewing for clothing skills with a tutorial for her adult bustle skirt. It is the perfect skirt for Summer nights, and will bring us right into the Fall Season without skipping a beat! My wardrobe will thank her for this….I love it!
—————————————————————————–
Hi all! I am so excited to be here today. I want to thank Jessica for giving me the chance to share a little something with you.
It has been years since I have made an article of clothing for myself to wear. I mean, like, eight years. And even then, it was a maternity skirt. I have done more sewing in the last year than I have in the over a decade (ouch!)since I graduated with my Bachelor's Degree in Fashion Design. And most of that has been for my daughter and my customers.
But, a couple of weekends ago, I made myself not one but two skirts. They fit exactly what I was needing in my wardrobe, long skirts. Long skirts with extra fullness in the back to give them a little polish. And long skirts that slip on and are comfortable to wear.
Could you use such a skirt in your wardrobe? Well, I am about to show you how ridiculously easy it is.
You'll need 1 inch wide elastic, fabric and coordinating thread. I have made this skirt in both cotton and lightweight wool so it will take to a good range of fabric choices. You do, however, need to make sure that it is either 50 inches wide or more, or else make sure that it doesn't have a directional print. That way you can use the selvage edges for the top and bottom and the yardage for your width. Does that make sense?
You'll need a rectangle of fabric measuring 50-60 inches wide by the length you'll want your skirt to be plus inches for hem and your upper casing. To get that measurement, measure from above your belly button to where you want the front of the skirt to hit. Then add three inches for the top and three inches for the bottom.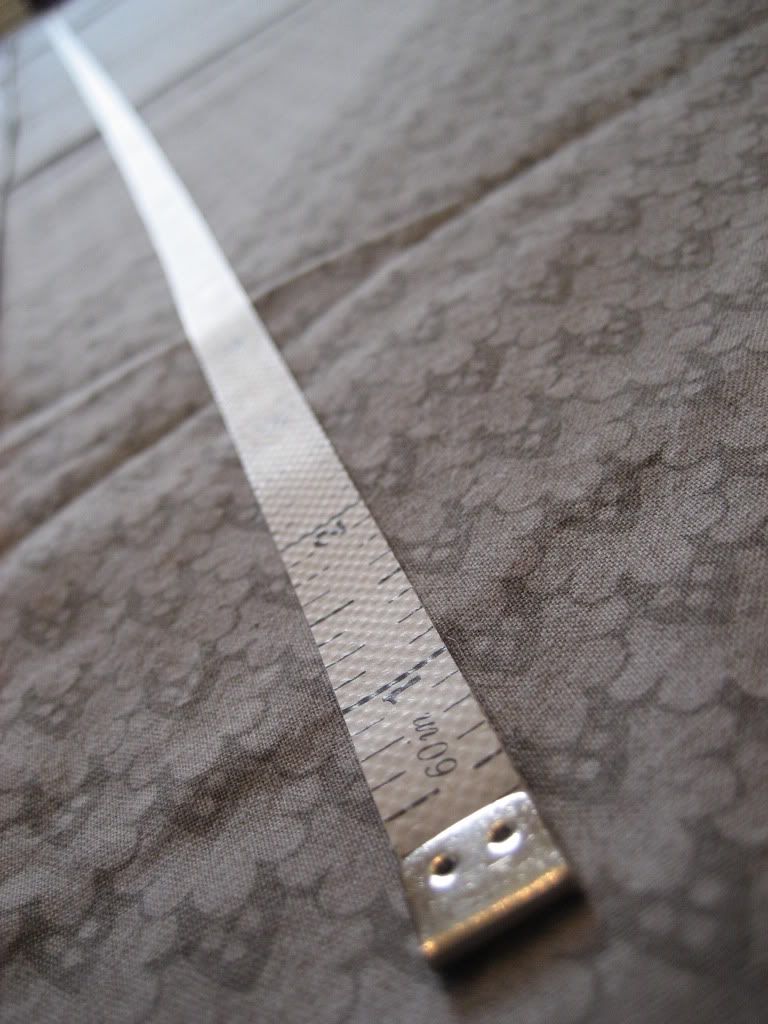 Now that you have your fabric ready, let's get started. Take your two shorter ends and sew them together and finish them however you like. If you have a serger, use that. If you want to zig zag it, go for it.
Personally, though I do own a serger, I use a french seam. If you have no idea what that is, follow along with me.
Sew your two shorter sides together WRONG sides together with a 1/4 inch seam allowance. I know, it will feel sacrilegious, but I promise it will be okay.
Next, turn it inside out and sew it again, RIGHT sides together this time, with a 1/2 inch seam allowance.
This way you capture the raw edges inside and you have a lovely finished seam.
Now on to the waist. You'll want to finish your raw edge either by serger again, or by folding it over and sewing it down all the way around the skirt at a 1/4 inch. Next, fold the skirt in half to find the middle of the waist and lay it flat on the table. Measure 12 inches from the center on both sides and mark with a pin. Like so: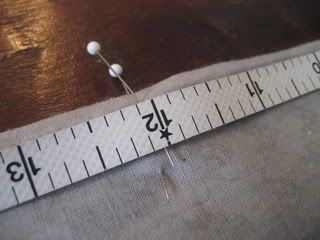 Fold the waist over an 1 1/2 inch and starting from one pin sew a casing along the back to the other pin, making sure to back tack at the start and at the end.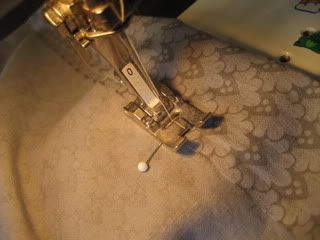 Cut yourself a length of elastic about 11 inches long. Or you can do the math. Ideally you want to match your waist measurement. The front of the skirt is 24 inches so subtract that from your waist measurement(keeping in mind that the skirt will sit high on your waist in the front)and you should know how long you want your elastic. Just be sure to add 1/2 an inch for seam allowance. Now thread your elastic through the casing you just made. (Be careful not to loose the end of it in the casing.)
Sew over the encased elastic at both ends, going over it a couple of times to ensure all is secure.
Next, sew down the front of the waist picking up where you left off at the elastic.
The last thing you need to do is hem it. You can do this however you like of course. My preferred method is to give it at least a two inch hem, as it looks more professional, and a double stitch line. And I use hemming lace. I do not mind hemming nearly so much since I have discovered this method.
Now try it on and see how the waist fits, if (like I did the first time) you need the waist to be tighter, use your seam ripper to open a small section in the center of the waist, pull the elastic out a bit and cut off the necessary amount, sew the ends of the newly cut elastic together, pop it back in and sew up the little opening.
And there you have it. I told you, it was ridiculously easy. And it leaves lots of room for embellishing. You can add a ruffle or two to the hem, you can add a sash that ties in the back and covers the elastic casing.
You can make it not so maxi.
You can make it wild.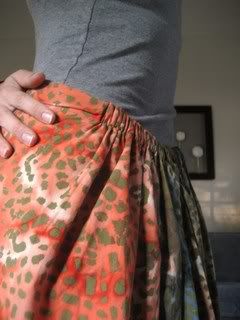 Or you can make it classic.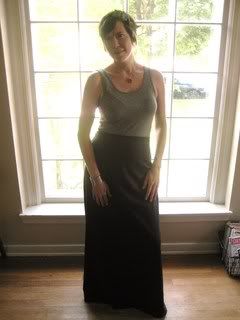 Make it your own.
Thank you so much, Jessica for having me today!
—————————————————————————–
Thank you again so much for being here today Susan and blog-sitting for me while I am taking a rest with the new baby! I hope the pay wasn't too crappy…lol
Don't forget to head on over to Good Little Things and check out what else Susan has to offer, you won't be disappointed!
Thanks so much for stopping by everyone, and until next time…
Happy Sewing 🙂