Something popped up for our scheduled guest blogger for today, so she will not be able to join us. Hopefully we will see her here tomorrow :).
I hope you aren't sick and tired of me yet! Lol
It was so hard to choose which project of mine to use for my last Pattern Remix post! I have made so many during the weeks leading up, that I literally have them stockpiled in my 'Saved Projects' folder.
This was the very last one I threw together, in under an hour, all because I wanted to go to the beach while we were having some 90 degree weather days. I figure once this baby comes, there may not be too many beach outings in our immediate future…lol.
I recently made the Stella One Shoulder Dress from Violette Field Threads for my oldest daughter Chloe…
It has become her new favorite dress (which may or may not have something to do with the bribed lollipop for photos – lol).
I have also had this amazing fabric sitting on my shelf that my Mom had unearthed for me a while back, did you know they make fabric with ric rac and ribbon already sewn onto it?!! Yeah, me neither!
So when the idea of a Sun Suit popped into my head for Madeline, I grabbed the fun fabric and went to town!
Is there anything cuter then baby belly in a Sun Suit?!!
I knew I wanted it to be One-Shoulder, so I whipped out the Stella Dress pattern knowing it would provide the perfect pattern piece for my Sun Suit top.
Using the bodice pattern portion, I simply cut about 1/2″ larger for seam allowance on the sides and omitted the front ruffle and side zipper. (Note – front ruffle would be awfully cute on this Sun Suit – but with the fabric I used already having ric rac on it and what not, it would have been too much. Sometimes less is more). Then followed along with the bodice instructions, sewing up both sides, and hemming the bottom.
This makes for an easy, slip over the head top.
For the bottoms, I used a Bloomer pattern I had on file. There are some great free tutorials out there for that, one that even premiered here during the Pattern Remix from Naptime Crafters!
But of course, I altered my pattern there as well by simply adding an additional 3″ to the bottom of the legs pattern piece. Then I folded the fabric under 2″ while hemming the bottom and sewed 2 lines 1″ and 1.5″ up from the bottom, leaving a 1″ opening in the 1.5″ sewed line. Inserted my leg elastic through the opening, and finished them as you normally would. This left me with a ruffled leg for the bloomers – which I utterly love.
We had such a great day at the beach and I am so thankful to have had the opportunity to enjoy it while we still can, before our world gets flipped upside down with sleepless nights and teeny tiny baby cries.
———————————————————————————-
I have a special treat in store for tomorrow…you will find me hanging out with Susan over at
Living with Punks
for her Scrap Your Stash Series!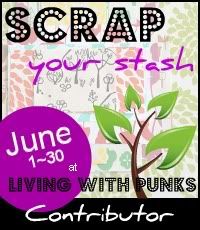 Til next time, Happy Sewing 🙂