Today I have the incredible honor of introducing Destri, the founding editor of
The Mother Huddle
. The Mother Huddle is such an inspiring blog, where 5 women come together to share their latest talents, insights, recipes, thoughts, and creations. Their classic elegance and taste shines through in every post. Their recipes are some of my go-to favorites (
Honey Curry Chicken
– yummm), their bullet lists are phenomenal (
this one from Ikat
was way up on my list), and they are always coming up with new and creative ways for me to keep my kids entertained in their
crafty kids corner
.
But what I love most, and I am incredibly biased, is their sewing / fabric related posts. This is Destri's realm. Her pieces are always so immaculately put together with such beautiful photos, that I am always in awe. She can take a simple classic pattern, and turn it into such a thing of beauty. Her creations are always made with the beginning sewer in mind, with easy to follow instructions, and beautiful end results. Here are just some that I love…
But what shines through the most for me is just how nice Destri is! This woman has such a big heart, which shows in every comment I have ever made that was always replied to!
I am a huge fan of Destri's, and the Mother Huddle, and I am honored that she would join us here today. So without further ado, I give you Destri from the Mother Huddle…
———————————————————————————-
Hey friends! If we haven't met before, I am Destri from
The Mother Huddle
. Nice to meet you :). I had to laugh a little after Jessica asked me to be on the series because a certain revelation came with thinking about what to do. I only do patterns once. It's kinda like a
"Climbed that mountain, now lets move on to the next",
type of feeling. But recently I have been leaning more and more on patterns because the hard work is already done for you, all you have to do is cut and sew – bless them pattern designers :).
So after further contemplation, I realized there was in deed one concept I had used at least 15 times. I think that counts as tried and true, no? I was taught the pattern when I made my very first purse at Gracie Lou's Quilt Shoppe in Salem, UT. (If you are new to sewing, taking classes at your local fabric store is the best way to go, you leave with a finished product!).
Here it is. It was called The Carrie Bag. I made it for my friend Aubrey, and she has been using it for over two years, washed it multiple times, and it still looks pretty good!
I also used the same technique for my hanging fabric baskets. I just added the sleeve to the mix :). Same for the smaller version. The concept is so customizable! You can quite literally make just about anything by way of bag, pouch, or basket – just change the measurements to what you need. I have made larger bags with a big flap, smaller with just a magnet closure, button, ties….endless possibilities. Let's get started!
I am going to show you the basic process for making a bag, and tell you where you can adjust to customize the bag to your needs. In my case, I needed a bag for my laptop. I will provide you with my measurements, just in case you need a bag for your laptop too. The finished bag should fit most standard laptops, but you should measure just to make sure.
Supplies:
all your sewing stuff
3 coordinating fabric ( not necessary, but fun)
fusible fleece
d-ring – or plain old ring
clasps
Fabric Requirements:
This will always very depending on how big you want the final product, but this is what I used. You can look at the pictures to see where I used different fabric for fun:
½ yard for the inner lining (I used an already quilted with batting, it was on sale!)
½ yard for the outer sides, and strap
¼ yard for the outer bottom and scrap
½ yard fusible fleece (iron on, you will need more if you need to add some to your lining)
If you are not using this bag for a laptop, you could go with just a lightweight fusible lining. I adjust the lining to the project. This one needs to be soft. If your laptop is bigger, you made need to adjust these measurements :).
Fabric Cuts:
These cuts were based on my Dell lap top. For a Macbook Pro, add an inch where I tell you.
One 16 x 26 inch piece for the inner lining (cut 17 x 26 for a MacBook Pro)
One 9 x 16 inch piece for outer bottom (cut 9 x 17 for MacBook)
Two 9½ x 16 inch pieces for outer sides (cut 9½ x 17 for MacBook)
One 40 x 2¾ piece for the strap.
Two 2½ x 5 inch pieces for rings
Sewing and Assembly:
We will be starting with the three outer pieces.
Sew the outer sides to the bottom with the right sides together using a 1/4 inch seam allowance. When you are done, you have a piece the same size as the lining.
Now cut a size of fusible fleece the same size as the pieced panel. If you don't have an already quilted lining, you will want to go ahead and cut out fleece for it as well.
Press the seams on out on the panel.
Now iron the fusible fleece to the wrong side of the panel, and also your lining if needed.
Top stitch on the right side of the panel just along the side edge of the top panels, it will give you a nice finish :). I like to use a little longer stitch length, then press with steam.
Now fold the piece in half, right sides and short ends together, and sew up each side. Repeat on the inner lining. My piece was double sided, but I did sew it with the right sides together. You should now have two pockets, that are the same size. Press the seams out, I forgot to do this :), dang it.
Now we are going to sew the corners. Keep in mind when you are customizing this project, how big you make your corner, is how wide the finished product will be. In this instance, I only sewed a one inch stitch across the corner, because I didn't need it to be too wide for a laptop.
Repeat on all corners for the lining and outer piece, making sure they are the same.
Cut off the corners on the lining.
Next, the strap. Cut a piece of fleece the same size, iron on. Then fold in half with the right sides together to make one long tube. To turn out, attach a large safety pin to one end and pull through the inside. Then press in half with the seam down the center. You can top stitch both sides if you like.
Now the little pieces for the rings. Iron the sides over 1/4 inch, then in half, sew up the sides, then top stitch the other side. You will have two little straps.
Now let's assemble the bag. Turn the outer panel right side out. Leaving the lining right side in, tuck inside the outer pouch. Now fold the top of the outer panel in a full inch, and the top of the lining out about an inch and half. Just make it so that the two overlap a half inch to sew together, and pin all the way around. I like to start at the sides, then work toward the center. I also offset the seams at the ends just a bit to reduce bulk.
Take the little pieces with the rings on, folded in half, and tuck them in-between the two layers on the ends like shown. At this point you could pin in whatever you want to customize the bag. A little strap for a button latch, a flap to pull over…just have fun with it!
Now just sew it all together! I have never had a problem with this, and I use a Kenmore…so don't be scared :). Just easy does it, start in the center, and sew right along the top outer edge making sure to include all layers. I also like to use a little longer stitch length here, and don't forget to back stitch!
When you get to the strap, make sure to back stitch a few times.
And there you have it! Easy! I like to press the top to make it nice and crisp.
Now to finish off the strap. Take your clasps…
Insert one end…
And sew a zigzag stitch right along the raw edge, back stitching a few times to really secure.
All done! Just hook 'em up 🙂
Now you have a bag! I hope you understand how you can customize it. Just make sure the lining and the outer piece are the same size and your set.
You could even use this as a satchel for notebooks, back-to-school isn't that far off ;). Add a flap, and a little deeper pockets at the bottom and it would hold books…getting the idea?
If you have any questions, just ask, you'll find me over on "The Huddle"!
Thanks for having me Jessica, it was fun!
——————————————————————————————————
Holy Smokes Destri! That is amazing! And I can't even begin to tell you how handy this will be for me, not only for my laptop, but for my new Nook Color that I received for Mother's Day too! Love it! And the fabric you chose, turqouise and orange – that is my new favorite color combination – so doubly whammy! 🙂
Thank you so much for being here today, what an incredible Remix!
—————————————————————————————————–
Don't forget to hop on over to see my Scrappy Homage to Starry Night premiering today in the Scrap your Stash Series at
Living with Punks
: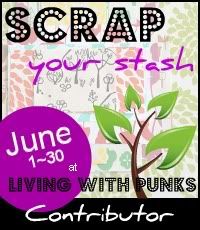 Thanks so much for stopping by everyone, and until next time – Happy Sewing 🙂